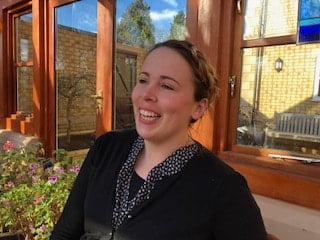 To kick off our blog we thought it'd be great to get an insight into what we do everyday. My name is Flo – and I work at our central office in Northampton. If you call the office about guardianship – that'll be my voice that you hear. I used to work as a nurse and as a teaching assistant, so jumped at the opportunity to join the team full time in January. It's a great place to work as every day is so varied! You can see me in the picture enjoying the beautiful Northampton sunshine.
A great example of this is how I recently spent the day out in Oxford with Sarah our Oxford Guardians Director. There was so much to do, so Sarah and I decided to divide and conquer! Sarah went to visit one of our new Russian students Sanzhar. (See picture below of Sanzhar with Lizzie, our Oxford Guardians Administrator). Sanzhar has recently joined us at Oxford Guardians and Sarah was popping in to see how he was. We try and make sure we see all of our new students regularly to make sure they settle in well to the UK. I think on this occasion Sarah took him out for lunch!
Meanwhile I went to meet one our new Guardians. We are always expanding and love introducing new members to our team. We get lots of people interested in becoming guardians and we go out to meet everyone face to face. This lady had just moved to Oxford and had a lovely home. She is now working with us full time and is in fact guardian to Sanzhar full time. After this we then went off together to another school to visit another student called Neris. We first stopped off at her boarding house to meet her houseparent. Its so important we talk to everyone involved with the student regularly, so we can see how they are getting on academically and pastorally. All of our Guardians do this once a term - at least!
Having caught up with her, we then went to see little Neris play in a netball match. It was raining and blowing a gale. But not even this stops us from cheering her on! She is super sporty and is a demon on the netball pitch. It was a really exciting game – she was even named Woman of the match! You can see her in the picture, to the left, on route to scoring a goal. Soaked through and buoyed up by Neris's victory and a successful day we returned back to the office to see what excitement the next day held!